In General: All shows are held 4 times a year, in February, April, June (or July) and October.
With the exception of the June show, which is held in the "Exhibition Hall," all shows are held in the 3 and 1/2 acre "Cow Palace."
Directions and Map: Click this printer friendly directions and map link to see fairgrounds and building locations.
Lodging: The best value we've found is the Holiday Inn Express, the "Official Hotel" of the Great Scale Model Train Shows, about 8-10 minutes from the show. Click the image in the left panel for details and reservation information.
Current Schedule:
Dates

Bldg

Oct 27 & 28, 2018
Cow Palace
Feb 2 & 3, 2019
Apr 6 & 7, 2019

June 8 & 9, 2019

Exhibition Hall

Oct 26 & 27, 2019

Cow Palace

Times: Saturday: 9am - 5pm / Sunday: 10am -4pm
Admission Prices: No better value, anywhere!
You are a...
Sat & Sun
Sun Only
Family of any Size
$20
$15
A Solo Adult
$10
$8
Child 15 or under in company of adult
Free

The hand stamp or wrist band you receive
on Saturday admits you on Sunday

Please note: we are not currently able to process
credit/debit cards for admission to the show.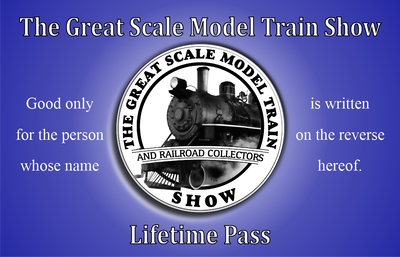 LIFE-TIME PASS! Are you a "Frequent Flyer?" Consider a life-time pass for yourself or as a gift! Pricing is just $125 per pass, or $100 each for 2 or more. Just complete and send the information below. When you pay the invoice we send back to you, we'll drop your pass(es) in the mail. Please note that these are in limited supply, so don't miss out!
Please note: Each card has a signature panel on the reverse, and may be used only by the person named on the signature panel.