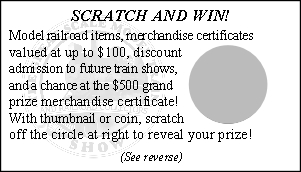 We've thrown away the "Door Prize Rulebook!" If you are a winner, you'll know just moments after you've entered the show -no waiting for an announcement!
Our "scratch-offs" (as shown at left) are like lotto tickets. Just scratch off the disc to see what you have won. BUT, there is one major difference. With us, EVERYONE is a winner. The least you'll win is a discount on admission to a future show. But our other prizes, including merchandise certificates* worth from $5 to $100, and items from the door prize table will definitely be awarded - on the spot - no waiting for a do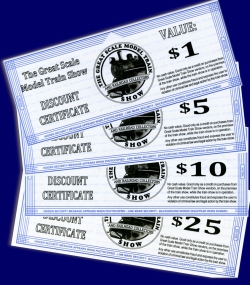 or prize announcement.
Scratch-offs will be distributed, 1 to each attendee, as you enter the show on each day you attend. So, if you are here both Saturday and Sunday, you'll receive a scratch off card each day.
But WAIT! There's MORE: Every winner can be a double winner, because you're also eligible to enter the door prize drawings held throughout the weekend. Here, again, serious value you can use like cash at the show.
Drawing times appear on the door prize entry form.
If you win a merchandise certificate*, what you receive is a "stash" of coupons in various denominations that you can "spend" at show vendors just like real money.
Please note: certain conditions for door prize drawings apply. For example, you can't enter more than once per day (but all family members attending CAN enter once) and you must be present to win. Rules are found on the reverse of the entry form.

*Merchandise certificates can be used like cash, but they are not cash. Do not attempt to redeem them for cash with any vendor. Vendors may return "small change" when your certificate exceeds the sale price by $1 or less. If you need smaller denominations of certificates to hit this target, we'll give you what you need.