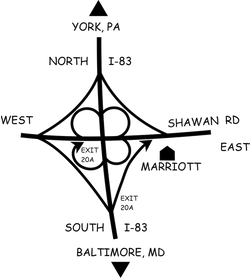 THE VENUE: The luxurious ballrooms and meeting spaces of the Marriott Delta Hotel at 245 Shawan Rd. in Cockeysville, MD, just off exit 20-A from I-83.

THE EVENT: Enjoy ample parking, shop for bargains among our top vendors and pause to relax and refresh at the hotel's restaurant and lounge areas.

YOUR PERSONAL SAFETY: Because this is a Covid-Safe show, admission is by advance ticket purchase ONLY. Your comfort and safety is also assured by wide, one-way aisles to comply with social distancing.

MASKS: REQUIRED!

TICKETS: Just $12 per session, per guest, age 12 or older. Reserve as many sessions as you like. Kids under 12 are NOT admitted.

FAST AND EASY ADMISSION: No long lines, no waiting! At show entrance we'll quickly scan your paper ticket or digital image and you will be admitted instantly!

CONVENIENT, SPEEDY TICKET PURCHASE: Secure your session by clicking:

If the above link does NOT work: copy and paste this direct URL:

https://www.eventbrite.com/e/great-scale-model-train-show-tickets-138097105159

Capacity is (of course) limited, so reserve now!